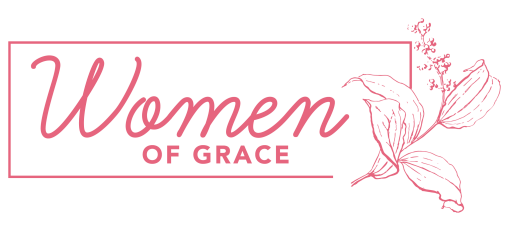 Our desire is to see the women of Grace grow in godliness and demonstrate the characteristics of biblical womanhood. It is this desire that compels us to offer a variety of opportunities for women to be nurtured in the Word, to minister to the body of Christ, and to take the Gospel to those who do not know Christ. Listed below are the opportunities ladies will find in the Grace women's ministry:
Ladies' Bible Study
From September to April, we offer two opportunities for women of all ages to gather for Bible study and fellowship. The first group meets on Tuesday mornings from 9:00-11:00. The second group meets on Sunday Night during Grace Equipping. For more information on Grace Equipping Click Here.

Summer Reading Group
During summer, while the ladies' Bible study is not in session, ladies have the opportunity to read and discuss a book on different topics from womanhood to Christian life. These reading groups typically meet four or five times during the summer.

Young Moms of Grace
Being a new mother is one of the most challenging and exhausting times of motherhood. Understanding this, the women's ministry of Grace seeks to intentionally meet the needs common to mothers of young children. Special events are held to encourage and equip young mothers to raise godly children.

Hands of Grace

The women of Grace not only desire to grow in our love for God through Bible study and fellowship, but we also seek to show our love for one another and reach the world with the Gospel of Jesus Christ. Hands of Grace provides ladies with the opportunity to do this through the use of their gifts and talents so that others might come to a saving knowledge of Jesus Christ. What does this look like? A few of the ways Hands of Grace ministers to others is by making baby blankets for newborns at the hospital, assembling and sending college exam survival kits, and doing acts of kindness for various community organizations and businesses. Ladies, if you would like to be involved in a ministry that performs loving acts of kindness to the body of Christ and the the surrounding community, then you will thrive as a part of Hands of Grace.
Hands of Grace
A ladies' ministry of Grace Baptist Church.
We exist to glorify God through demonstrating loving acts of kindness, service, and hospitality.
Galatians 6:10 – "Therefore as we have opportunity, let us do good to all people, especially to the family of believers."
We have 9 ministries of Hands of Grace and they are as follows.
Baby Blanket Ministry – Blankets are made from fleece and knot-tied fringe on the ends. The blankets are taken to the hospital for the newborns and also given to the new babies in the church.

Valentine's Day Ministry –Ladies bring homemade goodies, decorate trays for the goodies, and deliver the trays on Valentine's Day to the hospital and cancer centers.

Hospital Ministry – Special bags are filled with thoughtful items to give to persons to use while in the hospital.

College Student Ministry – Final exam survival kits are put together twice a year at exam time to send to our college students along with encouraging notes.

Little Box of Sunshine Ministry – Ladies make and deliver a "little box of sunshine" to anyone needing a "pick-me-up."

Recipe Shower Ministry –Newly married couples are given a recipe shower with ladies' favorite recipes written on cards and kitchen gadgets or ingredients.

Card Ministry – Hand decorated cards with hand written notes complement our other ministries with words of encouragement.

New Baby ministry – We welcome new mothers in our congregation with a diaper cake and cards of encouragement.

Prayer ministry – We pray for our ladies' ministries and the people our ministries touch. We also pray for our pastors, church, and members.
Every lady is a part of Hands of Grace and can be involved as much or as little as her schedule will allow. You may want to do everything or you may only be able to participate by praying for the ministry.